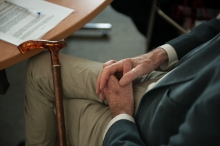 Title: Genio Dementia Programme Evaluation
Research team: Prof. Eamon O'Shea and Edel Murphy, Irish Centre for Social Gerontology, NUI Galway
Results: Evaluation of Year 1 report published August 2014. Evaluation of Year 2 and Year 3 reports to be published annually.
An evaluation of the Genio Dementia Programme will be published for each year of its operation. The evaluation of year one report examines the workings of the Genio Dementia Programme in 2013, the first year of operation, and its impact in relation to the public awareness of dementia, diagnosis, community-based supports, integrated provision, and sustainability.
The report also covers the relevance and implications of the programme over the coming years for public policy and its role in heralding and showcasing a new, person-centred approach to dementia care in Ireland. The report draws on information provided by Genio, information-gathering visits to each site to meet with key personnel, and a structured questionnaire completed by each site as part of this evaluation process, which invited the sites to reflect on their progress in the first year.