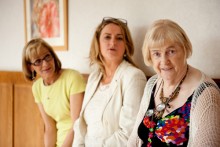 The 5 Steps to living well with Dementia in South Tipperary
Lead organisation: South Tipperary Mental Health Service
Grant amount: €700,000
Description: This dementia project will transform the life experience of people with dementia and their families by increasing public awareness, dispelling myths, reducing stigma and encouraging people to come forward  earlier for diagnosis and treatment.
"I'm about four to five years into it (dementia). I'm fairly alright; I forget things, which is normal. I live as best I can. The only thing that frightens me is the (reaction from the) community; if you tell them you have alzheimers they nearly go the other direction. I think people kind of say 'she has alzheimers, she'll be talking stupid'. So to me what's needed is more and more people going out and talking about it."
Marie Ryan, housewife, former dental nurse and member of the '5 steps to living with Dementia in South Tipperary' consortium
"Looking after somebody with Alzheimer's can be very rewarding. Just to hold my mother's hand and when I say something to her and she squeezes my hand, I know she knows what I'm saying. An odd smile, the nod of her head, just the recognition, I would miss all that if she was in a nursing home. "
Helen Jenkins, full-time carer for her mother and member of the '5 steps to living with Dementia in South Tipperary' consortium
Download an information booklet.  
Contact Details
Chris Morrissey (Project Co-ordinator)
Ph: 087-055-0050
Email: [email protected]
Dr Caitríona Crowe (Consultant in Old Age Psychiatry)
Ph: 052-617-7491
Website: www.southtipperarydementia.ie
Media Coverage
'South Tipp pilot project to aid dementia patients at home', The Nationalist, August 2012
'Keeping care in the home', Health Supplement, Irish Times, September 2012
'South Tipperary rolls out pilot project to aid Alzheimers and dementia sufferers', The Nationalist, February 2013
Videos
Video clip of Jason whose mother has dementia.