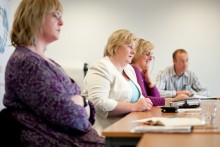 Community Action on Dementia in Mayo
Lead organisation: Alzheimer Society of Ireland
Grant amount: €699,579
Description: The project aims to provide a system of service provision for people with dementia in Mayo that is person-centred and based within the person's own community. The project also aims to develop within Mayo dementia-friendly communities where the individual's wider community are aware of their diagnosis and equipped to offer support.
"People imagine that once a person is diagnosed with dementia that they lose all their faculties very fast but that isn't the case. They may need help or a safe environment in which to carry on their daily lives but they can still live quite an enjoyable life. The fact that the projects that are being planned here are community-based projects means that the community is becoming more dementia friendly and that can only make life easier for people."
Mary Bourke, carer and member of the 'Community Action on Dementia in Mayo' consortium
Download an information booklet.
Contact Details
Frances Maloney (Project Manager)
Ph: 094-902-7761 M: 086-836-6312
Email: [email protected]