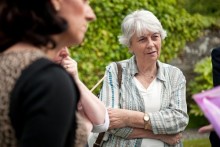 Kinsale Community Response to Dementia (K-CORD)
Lead organisation: The Medical Centre, Kinsale
Grant amount: €632,825
Description: This project will establish a comprehensive community-based, person-centred response to dementia, by engaging concerned professionals and local citizens in a process of collaborative learning, planning and action.  It will lead to the optimisation of supports, services and facilities for people with dementia and their carers.
"A person with dementia needs to be at the centre of the decision-making (about their own life) and a circle of support needs to be built around that person. As the disease progresses and it comes to the point in time where the person with dementia loses control over their own autonomy, it becomes a much more primary role for the primary carer. This is daunting and heart-breaking and therefore that circle will have to surround the primary carer as well."
Anne Twomey, former carer and member of the Management Committee of the 'Kinsale Community Response to Dementia' (K-CORD) project
Download an information booklet.
Contact Details
Deirdre Cullen
Project Lead
The Medical Centre, Kinsale, Co. Cork
Ph: 021-477-2253
Email: [email protected]
Elizabeth Creed
Project Manager
K-CoRD, Apt 24, Haven Bay Village, Kinsale, Co. Cork
Ph: 021-470-9700
Mobile: 083 4199751
Email: [email protected]
Website: www.kcord.ie
Twitter: @KCoRD_Ireland